A marvellous ski holiday in Castelrotto – Alpe di Siusi
A ski holiday in Castelrotto – Alpe di Siusi is a dream made of powder snow and sunshine! The vast and beautiful ski resort Alpe di Siusi – Val Gardena is located only a few kilometres away and offers pure winter sports pleasures. Alpine skiing, cross-country skiing, toboggan fun or snowboarding: everything is possible here. A delightful experience is guaranteed by the popular ski touring or snowshoeing excursions, which give you the possibility to admire our gorgeous winter wonderland in all its glory. You love to take it easy? Participate in a romantic ride in a horse-drawn sleigh! And our special tip for our youngest guests: in Castelrotto a great winter fun park is waiting for you!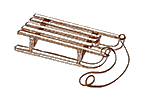 A ski vacation in Castelrotto – Alpe di Siusi
Fun and relaxation for the entire family
In the cold season, the Alpe di Siusi welcomes you with a particularly suggestive atmosphere. You may now look forward to great recreational activities for the entire family. No fewer than seven toboggan runs are available here, and two ice-skating rinks, four children parks and a mini express train guarantee for cheerful hours in the snow. When the Christmas season is approaching, we recommend a stroll through the enchanting Castelrotto Christmas Market, with an ambiance that perfectly matches the festive days!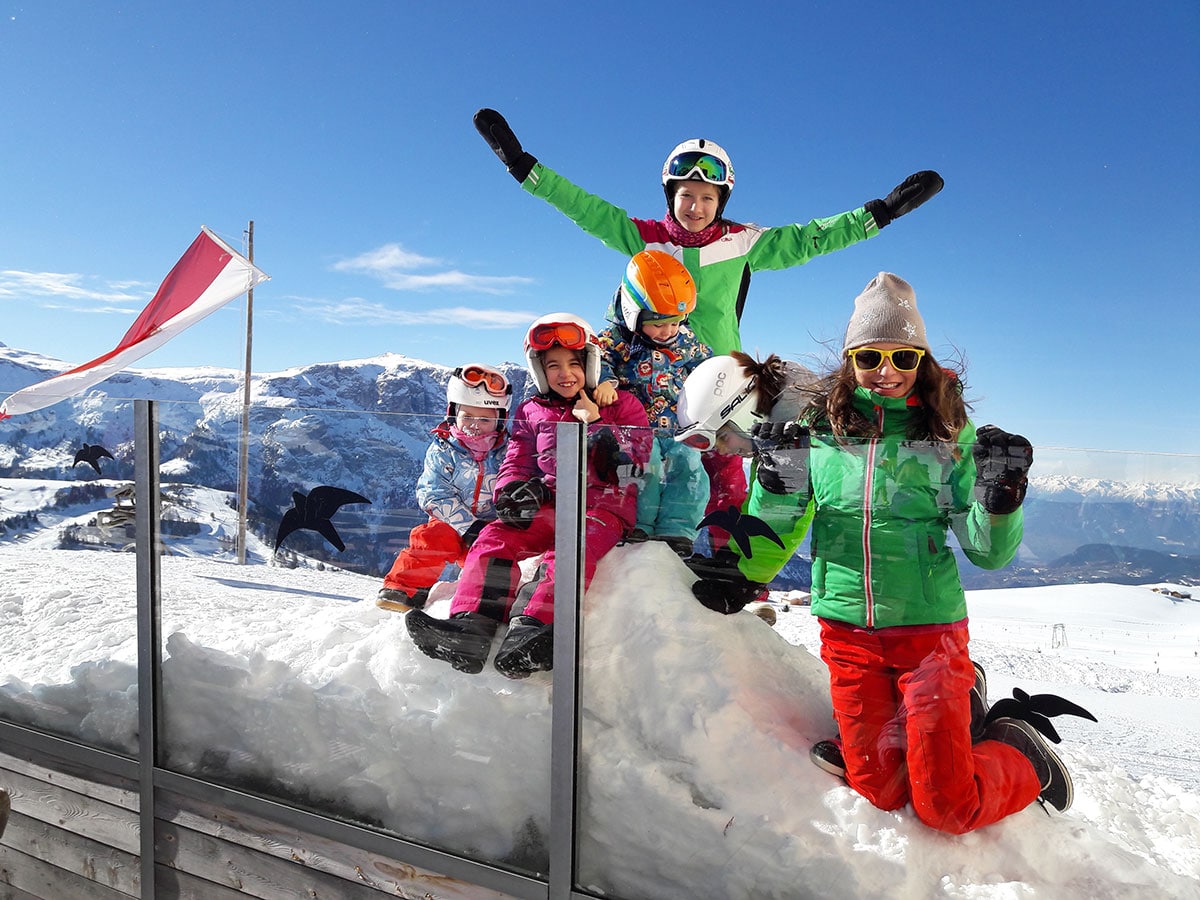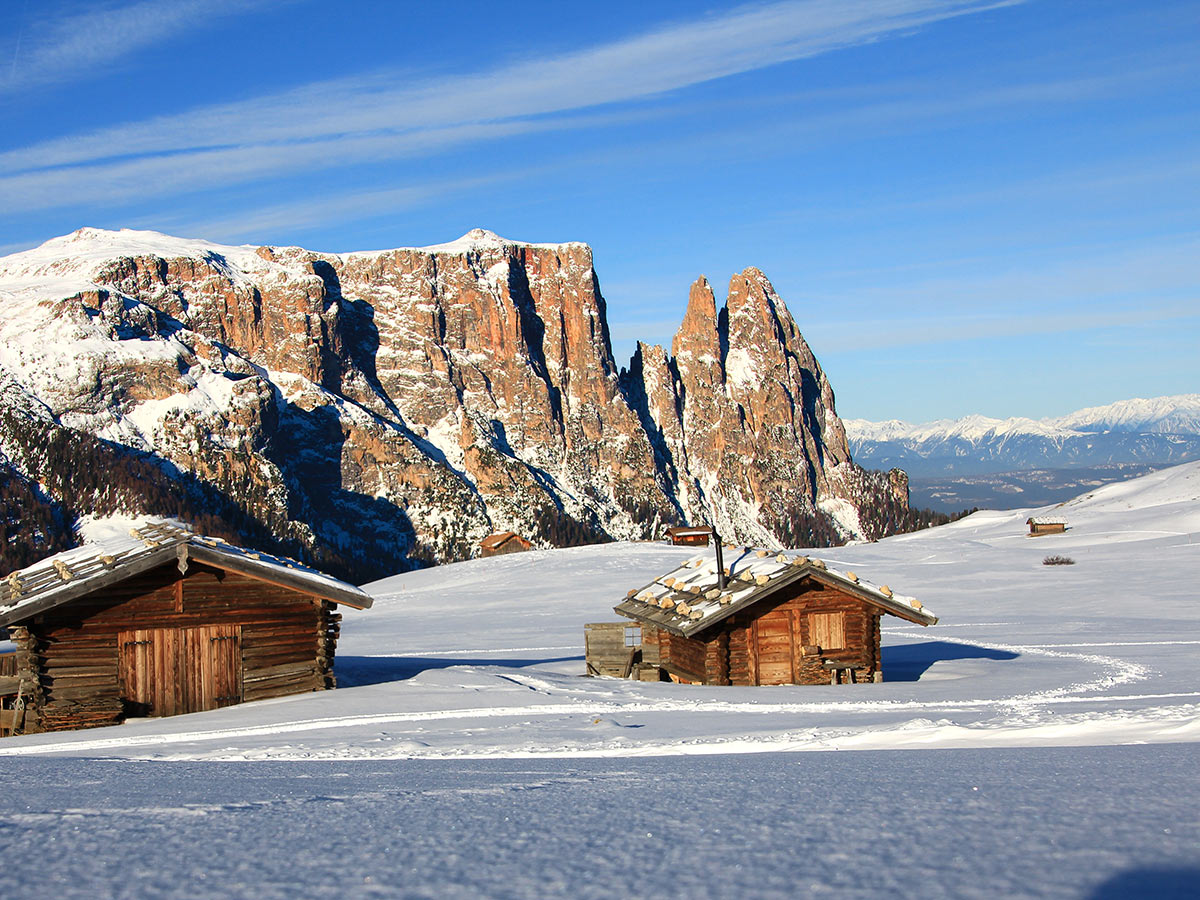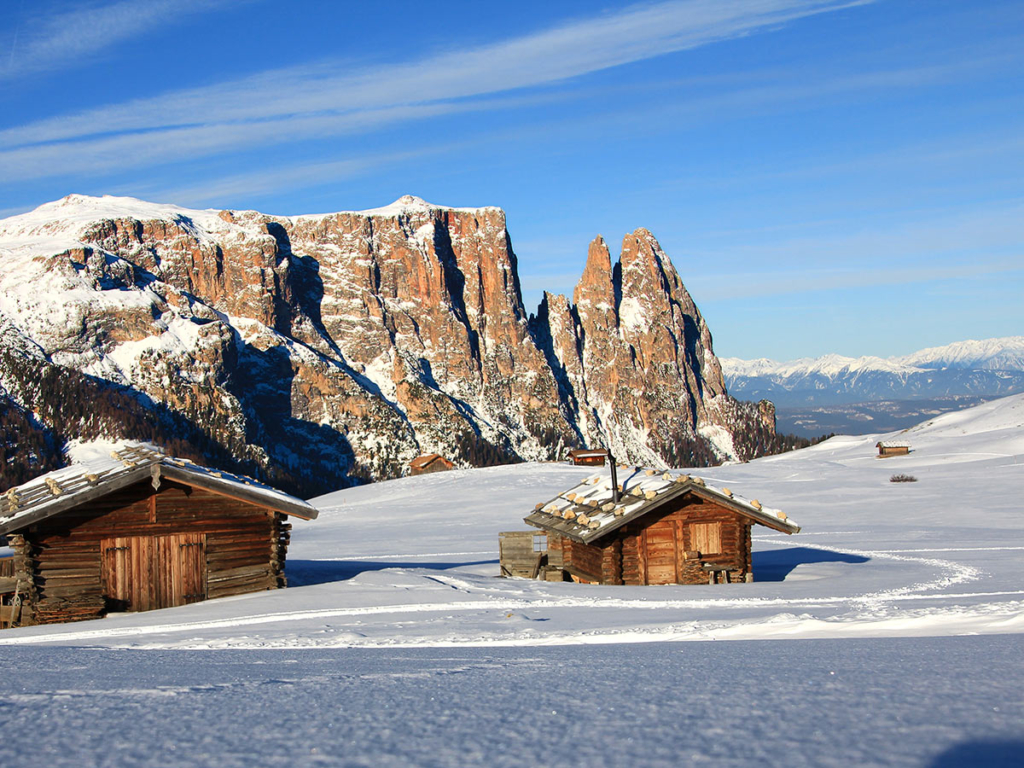 Winter holidays in Castelrotto – endless snow fun
One of the most beautiful and largest ski resorts in South Tyrol: Alpe di Siusi awaits you for your winter & skiing vacation in the spectacular natural landscape of the Dolomites. For skiers, winter hikers or leisure vacationers – everyone will find exactly what he is looking for.
weiterlesen
➤ Besuchen Sie in der Adventszeit unseren traditionellen Weihnachtsmarkt, die "Kastelruther Bergweihnacht", auf dem historischen Dorfplatz. Hier finden Sie neben leiser Adventsmusik bei Kerzenschein, wärmenden Tee und Lebkuchen, vor allem Südtiroler Handwerkskunst.
➤ Über die Weihnachtszeit können Sie auf dem Eislaufplatz in Seis oder Kastelruth, welcher nur 2 Kilometer entfernt ist, Ihre Bahnen ziehen. Schlittschuhe können Sie vor Ort ausleihen.
➤ Was wäre ein Winterurlaub in Kastelruth ohne Mondscheinrodeln auf der Seiser Alm? Nach der Rodelgaudi für die ganze Familie kehren Sie in einer der vielen Almhütten zum gemütlichen Beisammensein ein.
➤ Wenn Sie das Wandern und Rodeln verbinden möchten, empfehlen wir Ihnen die Naturrodelbahn am Völser Weiher, nur knapp 10 Kilometer von uns entfernt. Sie wandern zunächst gemütlich hinauf bis zur Tuffalm und rodeln anschließend durch den Wald zurück, ein Spaß für Groß und Klein.
➤ Nur 2 Kilometer von unserem Hof entfernt befindet sich in Kastelruth der Funpark mit Rodelhang und Eislaufplatz. Hier können Ihre Kinder, dank Förderband und Tubing Bahn, ganz leicht das Skifahren lernen.
➤ Während Ihrem Skiurlaub bei uns im Seiser Alm Gebiet stehen Ihnen zahlreiche ausgezeichnete Ski- und Langlaufschulen zur Verfügung. Sie können selbst entscheiden, ob Sie in der Gruppe oder individuell betreut werden möchten.
➤ Das Familienskigebiet Seiser Alm bietet Ihnen 60 Kilometer gut präparierte breite Pisten, 80 Kilometer gut präparierte Langlaufloipen, einen Snowpark sowie mehrere Naturrodelbahnen.
➤ Damit Sie Ihre Skiausrüstung nicht täglich transportieren müssen, empfehlen wir Ihnen das Ski-Depot an der Bergstation der Umlaufbahn. So starten Sie Ihren Skitag auf der Seiser Alm ganz entspannt.
➤ Bei guter Schneelage können Sie direkt ab unserem Hof zum Schneeschuhwandern, Schlittenfahren oder zu einer Runde mit den Tourenskiern aufbrechen.
➤ Bei guter Schneelage können Sie Ihre Langlauftour sogar auf der, von unserem Hof, nur 1 Kilometer entfernten Langlaufloipe starten.
➤ Ein besonders schönes Erlebnis ist im Winter eine Pferdeschlittenfahrt auf der Seiser Alm. Warm eingepackt in Decken genießen Sie die vorbeiziehende verschneite Landschaft. Unterwegs lohnt sich die Einkehr in einer der vielen urigen Almhütten.
➤ Verpassen Sie auf keinen Fall zum Ende des Winters hin das Musikfestival "Swing on Snow" auf der Seiser Alm. Eine Woche lang erleben Sie hier kostenfrei einen soften Musikmix aus Volksmusik, Pop, Jazz, Soul und Klassik. Dabei spielen die Musiker tagsüber in verschieden Hütten auf, und am Abend in den heimischen Lokalen.
➤ Ein weiteres Highlight während Ihrem Winterurlaub bei uns am Bauernhof Paten ist die "Bauernhochzeit" in Kastelruth. Sie erinnert (im Januar) an die Traditionen im 19. Jahrhundert. Bei dieser nachgestellten Hochzeit bringen zahlreiche geschmückte Pferdeschlitten die Hochzeitsgesellschaft ins Dorfzentrum von Kastelruth, um dort bestaunt zu werden. Ansässige Bäuerinnen sorgen für das leibliche Wohl.
➤ Im Umkreis von nur 3 Kilometer finden Sie mehrere Ski- und Fahrradverleihe. Auch bergtaugliche Kinderwagen und Tragen für Ihre Kleinen können Sie dort ausleihen.
Unforgettable – Your skiing and winter holiday in Castelrotto