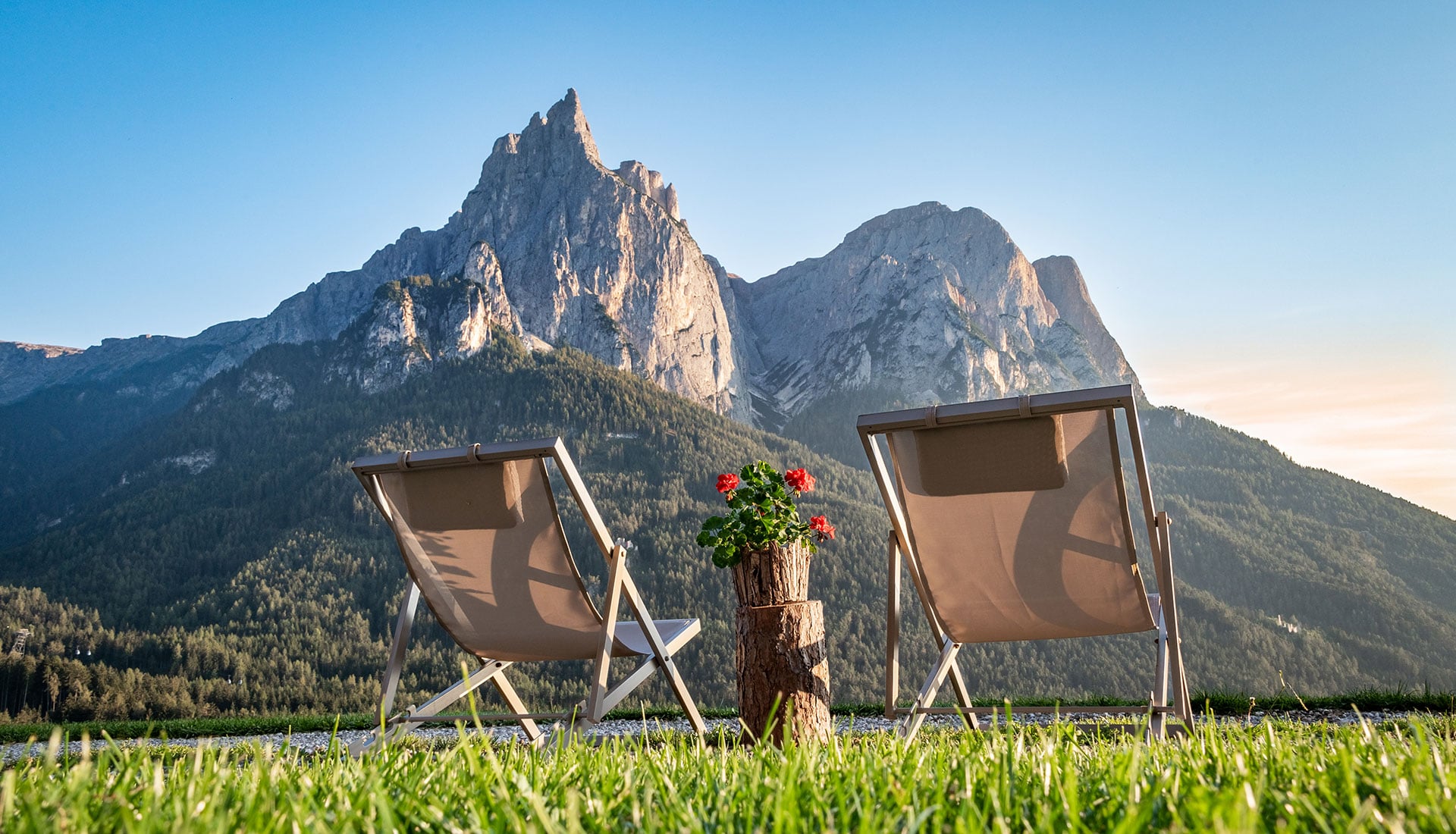 Summer vacation on our farm
…the scent of hay, rustic pastures and carefree water fun
A summer vacation on a farm is an experience for all senses. The fragrant scent of aromatic herbs wafts through our cottage garden and your skin will be pampered by the warm rays of the sun on our lawn. Of course, also plenty of water fun awaits you: the public outdoor pool in Telfen is just one kilometre away, and the natural swimming pond at the lake of Fiè is only eight kilometres away and offers rowing boats for even more fun on the water. Around the hiking area Alpe di Siusi (only eight kilometres away) you will find countless hiking opportunities for all levels: from leisurely strolls to challenging day tours. For those who cannot get enough of sports: at the Running Park Alpe di Siusi you will find 20 marked jogging trails! In June, the local music group "Kastelruther Spatzen" welcomes you to their popular open-air concert, and at the end of August there will be a traditional village festival with costume parade. Plenty of variety awaits you: experience a wonderful summer holiday on our farm!


Activities and adventures: a summer vacation in Castelrotto – Alpe di Siusi
Why not explore our beautiful surroundings on horseback? Not far from our farm Patenerhof you will find two horse stables that offer all horse lovers the opportunity to explore our region on horseback. You are not a horse rider (yet)? No problem, lessons for beginners are offered! For sporty and adventurous guests we recommend a paraglider flight over our plateau … together with an experienced tandem instructor, because safety is of course paramount. And if you consider yourself a true alpinist, put your skills to proof on one of the many vie ferrate!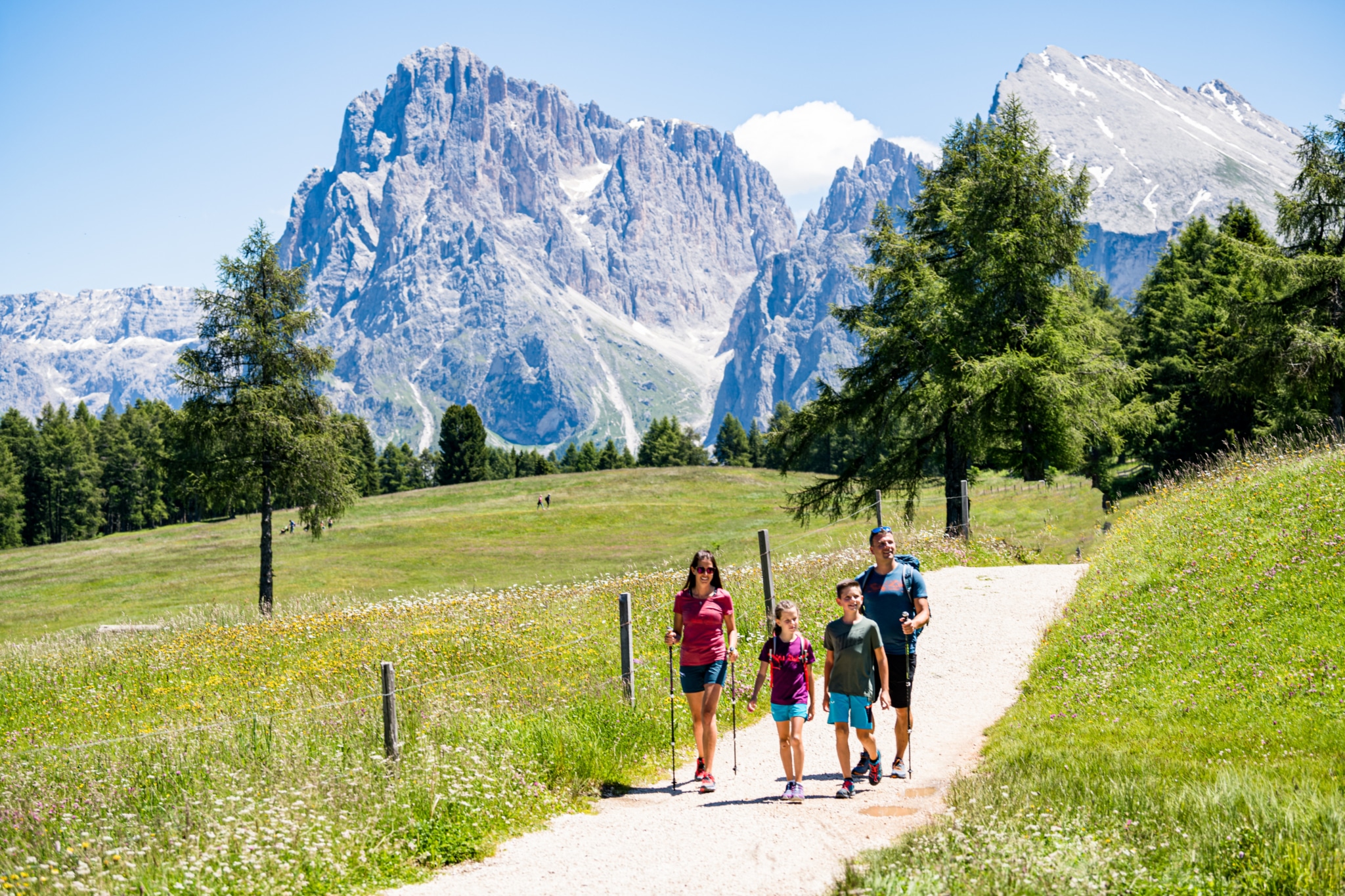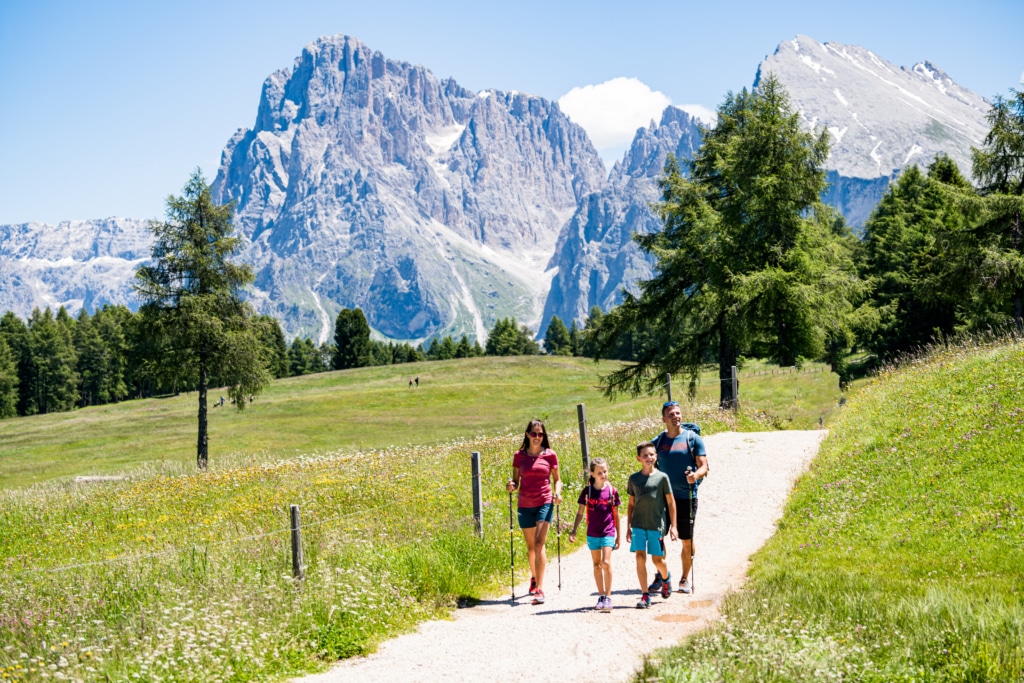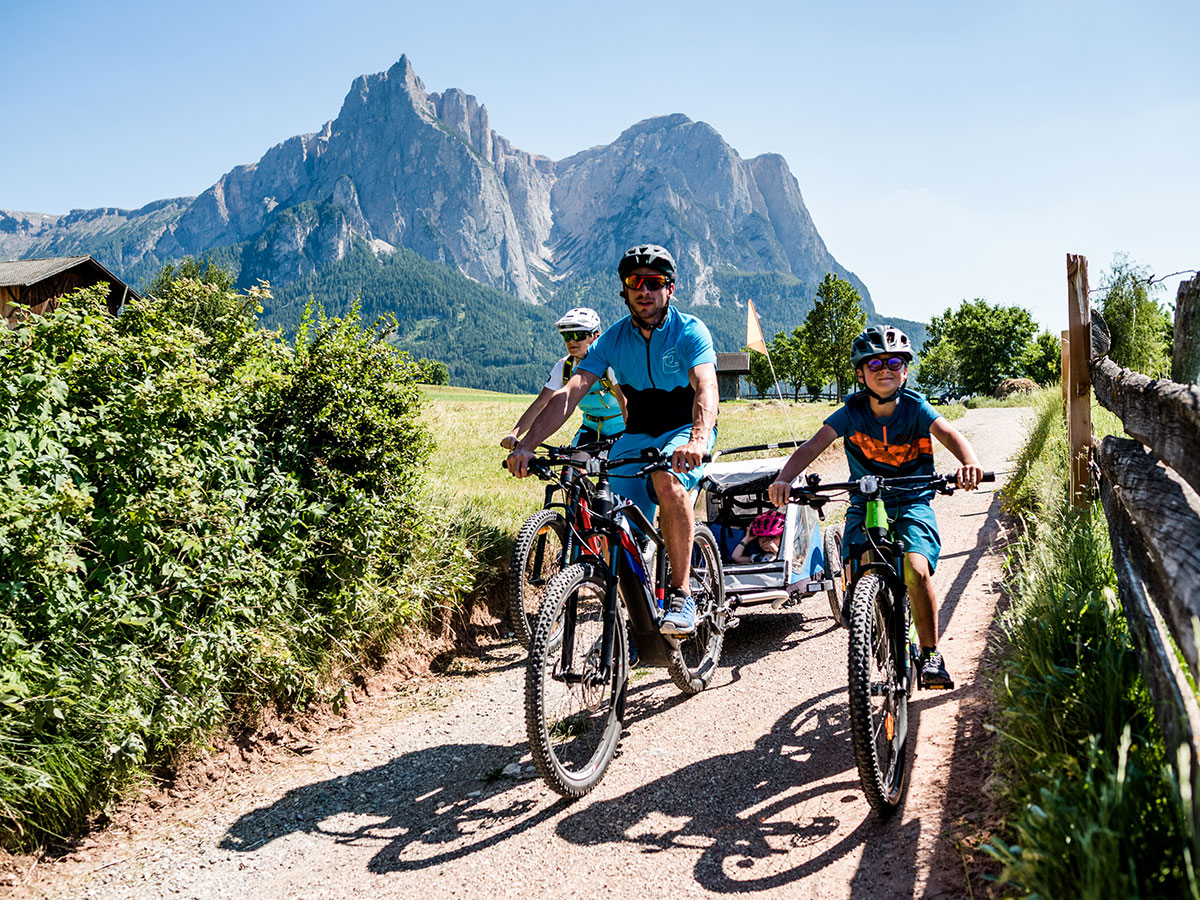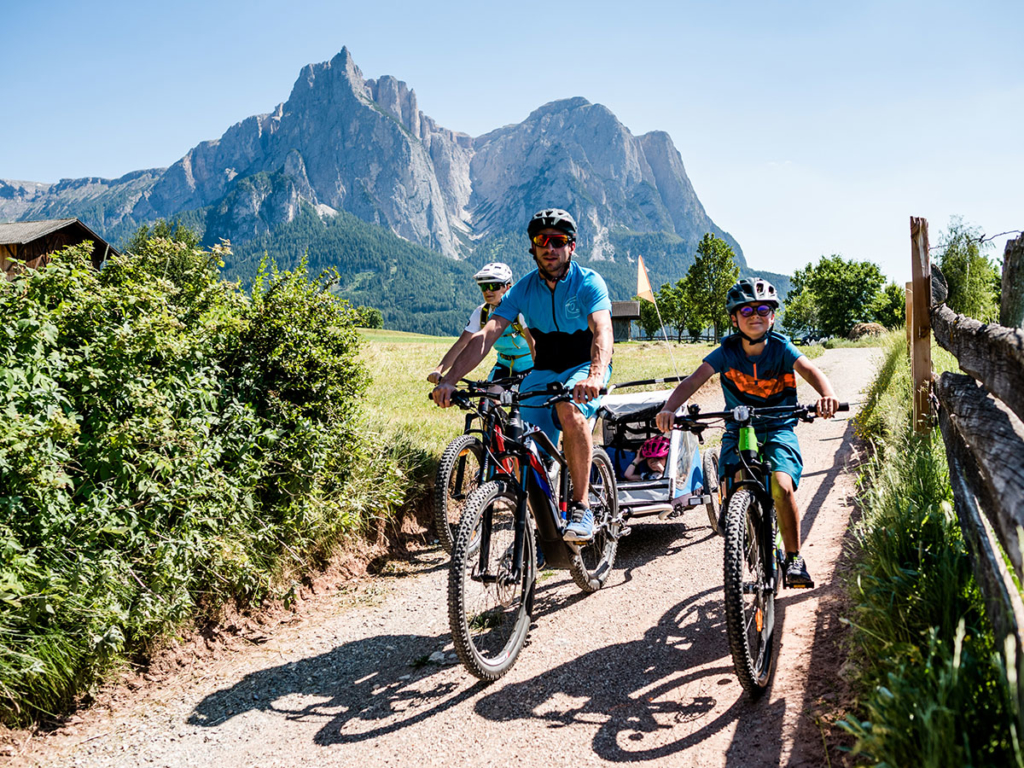 Much more than hiking – Your summer vacation in Castelrotto
Your summer vacation at our farm Patenerhof offers not only relaxation but also fun, adventures, and great nature experiences. Our beautiful location is your daily starting point for active, athletic und cultural excursions into the Alpe di Siusi Region.
weiterlesen
➤ Starten Sie auf zahlreichen Spazier- und Wanderwegen Ihre täglichen Wanderungen direkt ab unserem Hof. Viele davon sind zudem für Kinderwagen geeignet. Ebenso können Sie direkt ab unserem Hof zu größeren Bergtouren mit unterschiedlichem Schwierigkeitsgrad aufbrechen.
➤ Eine Laufstrecke für Ihren morgendlichen oder abendlichen Lauf finden Sie direkt vor unserer Haustür.
➤ Auf all Ihren Wanderungen erwarten Sie, sowohl auf der Seiser Alm als auch in Kastelruth und Umgebung, verschiedene Almen und Buschenschänke mit typischen Südtiroler Spezialitäten. Eine Einkehr können wir Ihnen nur empfehlen.
➤ Was gibt es Schöneres als mit einer Pferdekutsche über die Seiser Alm zu fahren? Bei dieser Kutschenfahrt erleben Sie die Weite der Alm auf ganz besondere Weise.
➤ Musikbegeisterte Gäste erfreuen sich im Sommer an den Abendkonzerten von verschiedenen Musikkapellen in Kastelruth und Seis.
➤ Wie wäre es mit dem Besuch in einem Museum? Nur knapp 2,5 Kilometer von unserem Hof entfernt finden Sie zum Beispiel das Trachtenmuseum in Kastelruth. Sowohl das Schulmuseum in Tagusens als auch das Bauernhofmuseum in St. Oswald erreichen Sie nach nur 6 Kilometern.
➤ Im Hochsommer können Sie jede Woche die Hexennächte in Kastelruth und Seis besuchen. An diesen verkaufsoffenen Abenden können Sie bei Livemusik durch das Dorfzentrum schlendern und einkaufen. Auch für Speis und Trank ist gesorgt.
➤ Wer gerne auf Märkten stöbert, kann sich auf den Besuch der wöchentlich stattfindenden Wochenmärkte in Kastelruth und Seis, sowie über den großen Bauernmarkt mit regionalen Produkten und Spezialitäten freuen.
➤ Was Sie auf keinen Fall im Sommer verpassen sollten, sind die vielen verschiedenen Dorf-, Wiesen- und Waldfeste unserer Region. Rund um Kastelruth, Seis und die angrenzenden Fraktionen erleben Sie hautnah Südtiroler Kulinarik, Musik und Tradition.
➤ Abkühlung finden Sie im Sommer im 1 Kilometer entfernten Freischwimmbad "Telfen". Wer lieber in einem wunderschön gelegenen Weiher baden möchte, sollte unbedingt den Naturbadeweiher "Völser Weiher", mit traumhaftem Blick auf den Schlern besuchen. Diesen erreichen Sie nach nur knapp 10 Kilometern ab unserem Hof.
➤ Golfer kommen auf dem 18 Loch Golfplatz "Golf St. Vigil" in Seis mit einem atemberaubenden Dolomitenpanorama voll auf ihre Kosten. Wer lieber Minigolf spielt, hat in der 18 Loch Minigolfanlage in Seis garantiert viel Spaß.
➤ In Telfen finden Indoor-Kletterer eine Boulderhalle mit 214 m² Fläche, ca. 1.500 Griffen und bis zu 70 Routen.
Your hiking vacation in the holiday region Alpe di Siusi